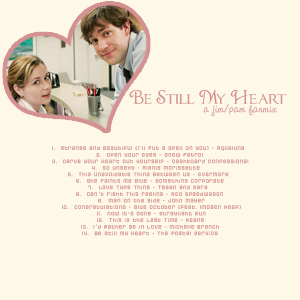 This fanmix is a tiny bit different in that it's a tad like a fic, filling in where the season finale left us hanging. The mix follows Jim and Pam's relationship up to that night my guess about next season: Pam doesn't accept Jim at first, but quickly realizes her mistake.




Strange and Beautiful (I'll Put a Spell on You) - Aqualung
I've been watching your world from afar
I've been trying to be where you are
And I've been secretly falling apart
Unseen
To me, you're strange and you're beautiful
You'd be so perfect with me
But you just can't see
You turn every head but you don't see me

Pam doesn't see Jim as more than a friend, even though he wishes for more.


Open Your Eyes - Snow Patrol
I want so much to open your eyes
Cause I need you to look into mine
Tell me that you'll open your eyes

Get up, get out, get away from these liars
Cause they don't get your soul or your fire
Take my hand, knot your fingers through mine
And we'll walk from this dark room for the last time

Jim (and the fans) would like Pam to realize what's going on right in front of her.


Carve Your Heart Out Yourself - Dashboard Confessional
Man it takes a silly girl to lie about the dreams she has
Lord it takes a lonely one to wish that she had never dreamt at all
Oh look now, there you go with hope again
But I'll be sure your secret is safe with me

"Dreams are just that. They're dreams. They help get you through the day. Like the thing about the terrace. It's nice. But, um...I don't know. It was just something I read in this book when I was 12."


So Unsexy - Alanis Morissette
I can feel so unsexy for someone so beautiful
So unloved for someone so fine
I can feel so boring for someone so interesting
So ignorant for someone of sound mind

Jim observing how how Pam feels in her relationship with Roy.


This Unavoidable Thing Between Us - Evermore
Between this I feel, between undeniable things
Between This so real, between unavoidable thing
Between us I see this undefinable thing, between us


She Paints Me Blue - Something Corporate
Tonight I watch the lights go out in your house
Wondering how I could get so deep
And you could still get to sleep
In vain I blame my trembling on the cold air
And I can't hide that I relied on you
Like yellow does on blue


Love Type Thing - Tegan and Sara
A shirt tucked out and your hands tucked in it.
When dark things come calling, they want you to leave here.
The sweet humming underground; sleeveless and tired.
A love type thing, a sure type thing.


Can't Fight This Feeling - REO Speedwagon
I can't fight this feeling any longer
And yet I'm still afraid to let it flow
What started out as friendship, has grown stronger
I only wish I had the strength to let it show

I tell myself that I can't hold out forever
I said there is no reason for my fear
Cause I feel so secure when were together
You give my life direction
You make everything so clear


Man on the Side - John Mayer
I am the man on the side
Hoping you'll make up your mind
I am the one who will swallow his pride
Life as the man on the side

Jim is saddened and irriatated by Pam's wedding planning and considers transfering.


Congratulations - Blue October featuring Imogen Heap
I came to see the light in my best friend
You seemed as happy as you'd ever been
My chance of being open was broken
And now you're Mrs. him.

My words they don't come out right
But I'll try to say I'm happy for you
I think I'm going to take that drive
I want to give you something
I have wanted to give to you for years
My heart

"I'm in love with you."


Now It's Done - Straylight Run
Holding onto the phone, holding onto this glass,
Holding onto the memory of what didn't last.
Waiting for better words, they'll never come.
So dry your eyes, it's better.
Now it's done.
I never lost so much.

Jim after Pam's rejection.


This is the Last Time - Keane
This is the time
That I will say these words
I remember the first time
The first of many lies
Sweep it into the corner
Or hide it under the bed
Say these things they go away
But they never do

Jim resolves to try to stay away from Pam, but has difficulty doing so.


I'd Rather Be in Love - Michelle Branch
'Cause when there's you, I feel whole
And there's no better feeling in the world
But without you I'm alone
And I'd rather be in love with you

Pam finally realizes she's in love with Jim.


Be Still My Heart - The Postal Service
I was running late for work
So I didn't change my shirt
The evening's drinks left a lingering taste in my mouth
And when I left
You were fast asleep
Tangled in the sheets
And on the bus I could have sworn it was all a dream
And it didn't happen to me

And then I felt the scrapes
From the slippery subway grate.
Oh how you laughed
At my complete lack of grace.
But I could not recall
A more perfect fall
Cause when I looked up into your eyes
It didn't hurt at all.

And I thought, be still my heart
This could be a brand new start, with you.
And it will be clear
If I wake up and you're still here with me in the morning.

Happy ending at last!




Please, please comment if you download. Thank you!

IF YOU WOULD LIKE AN UPLOAD, PLEASE COMMENT ON THIS POST.